"The electric car is perfectly noiseless and clean. There is no smell or vibration. They should become very useful when fixed charging stations can be arranged."
The Hon. Charles Stewart Rolls, Co-Founder, Rolls-Royce, 1900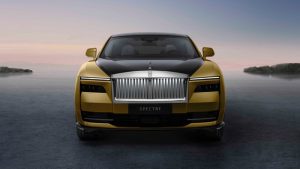 A PROPHECY FULFILLED. A PROMISE KEPT. AN EXTRAORDINARY UNDERTAKING.
In 1900, Rolls-Royce co-founder, Charles Rolls, prophesised an electric future for the motor car. Having acquired an electric vehicle named The Columbia Electric Carriage, he foresaw its suitability as a clean, noiseless alternative to the internal combustion engine – providing there was sufficient infrastructure to support it. Today, more than 120 years later, the time has come for Rolls-Royce Motor Cars to fulfil the prophecy of its founding father.
This prophecy could not have been fulfilled without a more recent promise, when Rolls-Royce CEO, Torsten Müller-Ötvös, made a public commitment to electrification by announcing that he would bring a fully-electric Rolls-Royce to market within the current decade. Charles Rolls' prophecy and Torsten Müller-Ötvös' promise led to an historic moment. In September 2021, the marque confirmed that it had commenced testing of Spectre, the first Rolls-Royce to be conceived and engineered from the very beginning as an electric car.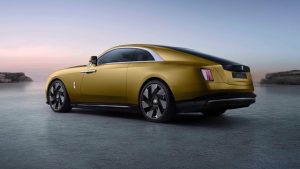 Spectre is not only an historic moment for Rolls-Royce, but also an historic moment for electrification – with Spectre, the marque confirms that the technology has reached a standard that can contain the Rolls-Royce experience. To that end, Rolls-Royce has confirmed that by the end of 2030 its entire product portfolio will be fully-electric.
THE FUTURE BEGINS
Spectre is more than a motor car. It is a statement of intent and a symbol of a bright, bold future as Rolls-Royce progresses into an all-electric era. This commitment to an all-electric powertrain will only enhance the Rolls-Royce experience – instant torque, silent running and the sense of one imperceptible gear have defined the characteristics of an extraordinary canon of products dating back to the very first Rolls-Royce, the 1904 10 H.P.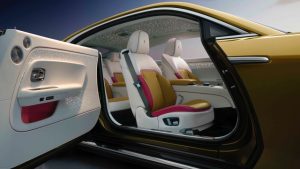 DESIGN
In unveiling Spectre, Rolls-Royce sets a new precedent in the creation of an entirely original class of motor car: the Ultra-Luxury Electric Super Coupé. This designation refers to Spectre's indulgent proportions, specified in response to a commitment that there is no greater luxury than that of space.
The marque's designers are deeply rooted in the context occupied by their motor cars. Therefore, their inspiration is drawn from worlds far beyond automotive, including haute couture, modernist sculpture, nautical design, tailoring and contemporary art. In conceiving the principal sketches for Spectre, the marque's creatives were drawn to modern yacht concepts, specifically the clarity and precision of line, intelligent use of reflection and application of taper to emotionalize silhouettes.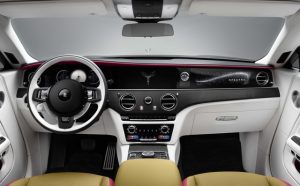 ALL-ALUMINIUM ARCHITECTURE OF LUXURY
The proportional demands of Spectre's scale required Rolls-Royce to embolden its wheel strategy. Spectre is the first production two-door coupé to be equipped with 23-inch wheels in almost one hundred years.
Inside, Spectre is provisioned with the most technologically advanced Bespoke features yet, drawing inspiration from the timeless mystique of the night's sky. For the first time on a series production Rolls-Royce, Spectre is available with Starlight Doors, which incorporate 4,796 softly illuminated 'stars'. The coach doors can also be commissioned with a backdrop of wood Canadel Panelling, which takes its name from the cove in the South of France where Sir Henry Royce and his design team spent their winters.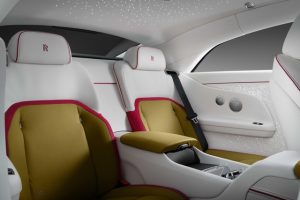 POWER, RANGE AND DIMENSIONS
The final power, acceleration and range figures are still being refined, as the extraordinary undertaking of finessing Spectre enters its final phase before concluding in the second quarter of 2023. Preliminary data shows that Spectre is expected to have an all-electric range of 320 miles/520 kilometres WLTP and offer 900Nm of torque from its 430kW powertrain. It is anticipated to achieve 0-60mph in 4.4 seconds (0-100km/h in 4.5 seconds).
With many months of testing and optimisation of Spectre still ahead, these figures are subject to change ahead of official confirmation prior to market launch in Q4 2023.
SPECTRE CO2 EMISSIONS AND CONSUMPTION FIGURES
WLTP:   Power consumption: 2.9 mi/kWh. / 21.5 kWh/100km*
Electric range: 323 miles / 520 kilometres*
Co2 emissions 0 g/km.
*Preliminary data not yet confirmed, subject to change.
Spectre is available for commission immediately, with first client deliveries commencing in Q4 2023. Spectre pricing will be positioned between Cullinan and Phantom.