A milestone achievement, the Discovery Centre serves as an architectural landmark for the local community and future homeowners to discover and engage with Lakeview Village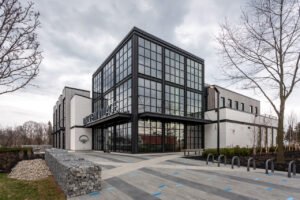 The Discovery Centre is a new community hub along Mississauga's waterfront, serving as a sustainable architectural landmark for Canada's most transformative waterfront community. As the inaugural building for Lakeview Village, the Discovery Centre sets the tone for the quality and design excellence. The building features spaces for culinary, arts and cultural events, while offering an enhanced experience for the public to learn more about the future community.
Designed by Q4 Architects with interior by II BY IV Design, the Discovery Centre's modern, open and contemporary feel beautifully captures the intersection of meaningful community connection and sustainable development, reflecting the guiding principles behind Lakeview Village.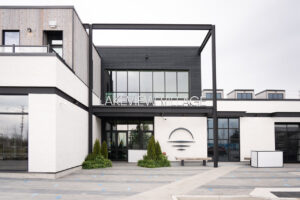 Q4 Architects (Q4A) drew inspiration from the site's past to inform its design, while fusing modern elements throughout to establish a 21st century waterfront community. The Discovery Centre's façade, featuring a mix of wood, brick and glazing, thoughtfully reflects the site's industrial past as a coal-fired station and the neighbouring buildings, such as the Small Arms Inspection Building.  Four vertical elements reference the "Four Sisters" chimneys of the old Lakeview Generating Station, while a sloping green roof can be viewed from the street-level, exemplifying the team's commitment to sustainability. Other sustainable features include free EV chargers for the public and a water harvesting system for irrigation around the site.
Upon entry, visitors are greeted by a stunning double-height pavilion featuring smart glass that refracts blue hues into the expansive space, creates seamless connections from the outdoors in. Rotating digital artwork by local artists is on display in the pavilion and a wraparound floor-to-ceiling green wall with native plantings becomes a crowning feature of the space.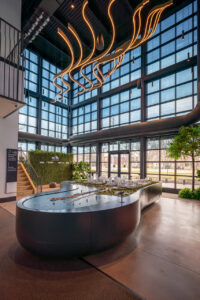 The Centre includes multiple flexible rooms that provide options for community activities, meetings, and sales galleries to support the various phases of the development. A lounge on the second floor and a dedicated community room creates endless opportunities for gatherings and events. An expansive outdoor terrace provides sweeping views of the adjacent green roof, the entire Lakeview Village site and Lake Ontario.
The Discovery Centre represents a thoughtful approach to designing a flexible and responsive space that can service both sales functions and community uses – serving as a model for placemaking and meaningful community infrastructure in master-planned communities.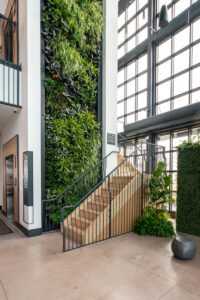 A PLACE OF CONNECTION AND DISCOVERY
The Discovery Centre, which has been meaningfully built with the community in mind, will serve as an immersive and interactive central gathering place for visitors to discover all aspects behind the Lakeview Village project, from design, public art and construction to technology and sustainability. Each of these characteristics have been thoughtfully incorporated through forward-thinking design elements which emphasize a connection to nature and the site's natural heritage.
A place of connection and discovery, the Discovery Centre is also a gateway to the larger Lakeview Village site – a network of walkable trails and cycling routes, a new recreational field, a seasonal art trail featuring commissioned works by local artists and stunning waterfront views.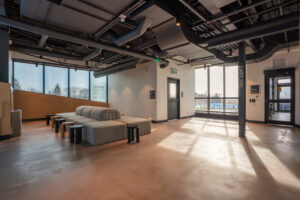 INNOVATION: FROM AN INDUSTRIAL PAST TO A SUSTAINABLE FUTURE
Sustainability, innovation and environmental stewardship are at the core of Lakeview Village. Designed with these principles in mind, the Discovery Centre brings nature indoors through a number of features to encourage authentic, meaningful connections to the environment and future Lakeview Village community:
Green Roof: A thriving ecosystem of over 1500 native plants from 30 different species, the roof is made of 100% recycled materials and provides a refuge and habitat for birds, bees, and butterflies while enhancing biodiversity, stormwater management, and acting as a seed orchard for future green roof projects.
Living Wall: A wrap-around green wall featuring a diverse ecosystem with over 20 different plant species augments the building's interior, drawing on the tenets of biophilic design while improving air quality increasing humidity, to provide a more comfortable indoor environment.
4 Sisters: Reflecting the site's transformation, the centre reimagines the land's former occupant, a coal-burning powerplant known as the 'Four Sisters Smokestacks," as four large windows, drawing light into the space during the day and framing the building at night.
Sage Glass: Advanced glass technology used to optimize daylight, manage heat and reduce energy consumption while maintaining panoramic views of the surrounding area, the glass, doors and railings have also been glazed with bird-friendly film to mitigate day and nighttime collisions while making the building less dangerous to migratory birds.
With approximately 28,000 inhabitants and workers, supplemented by numerous daily and special-event visitors, Lakeview will become Mississauga's vibrant waterfront, as well as a leading example of sustainable, high-intensity development that maintains and enhances quality of life for all.
Photos credit: James Bombales