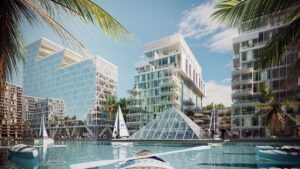 Forty Management is the first Romanian developer to scale this project in three other capital cities in the region: Budapest, Prague and Warsaw.
Central District Lagoon City has a gross development value ranging from EUR 396 to 488 million, depending on the city in which it is implemented.
Lagoon City is the first 100% self-sustainable, mixed urban redevelopment project in Central and Eastern Europe.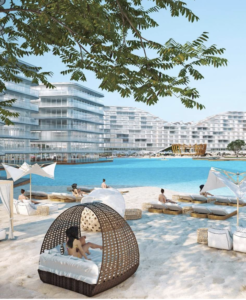 Forty Management has started work on the development of Central District Lagoon City Bucharest, the most innovative, self-sustainable, mixed-use urban reconversion project, unique in Central and Eastern Europe. The value of the investment in Romania exceeds €120 million, while the projects scaled up in Budapest, Prague and Warsaw will have investment values between €140 and €190 million each, depending on the mix and the needs identified on these markets.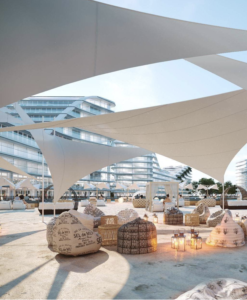 What makes the Bucharest project unique is that fact that it will implement for the first time in Central Eastern Europe the patented Crystal Lagoons® technology, which allows the construction and maintenance of cost and energy efficient artificial turquoise water lagoons of unlimited size. It will cover an area of over 10,000 sqm, have a maximum depth of 2 meters, two large beaches of more than 3,200 sqm and numerous other facilities. The lagoon, which is expected to be completed by the end of this year, will be used for swimming and water sports in summer and partly as an ice rink in winter.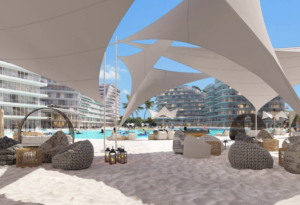 Lagoon City brings around this artificial lagoon a 5 star hotel with 323 rooms affiliated to an international brand, 401 apartments for rent, 9,200 sqm of commercial and service spaces, a class A, 8,500 sqm office building, as well as countless other facilities, practically a mini city with all the necessary destinations for urban living. Located in central Bucharest (at No.18, Coralilor Street), Central District Lagoon City is the first mixed urban redevelopment project that will produce all its utilities in-house, thus capitalizing on Forty Management's know-how and experience in sustainability.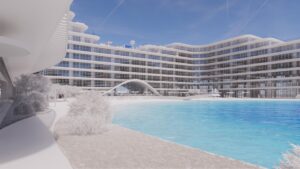 The amenities of Central District Lagoon City will include a heliport, concierge services for all apartments, 3 restaurants, 2 beach bars, a 430 sqm bistro that will also serve the beach area, a sky bar, cafes, a private cinema, kindergarten, 2 spa centres, a beauty clinic and electric car co-sharing services.
To develop the Lagoon City concept, Forty Management has acquired the Crystal Lagoons® franchise, the most innovative American technology company for the development and implementation of sustainable lagoons and artificial beaches, with more than 1 100 projects completed or in various stages of execution in over 60 countries. Forty Management has obtained the rights to implement the Crystal Lagoons® in Hungary, Poland, Czech Republic and Romania.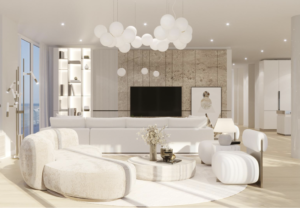 "
We are delighted to partner with Forty Management to bring the revolutionary Crystal Lagoons® concept and technology to Bucharest, Budapest, Prague and Warsaw. As a market leader in innovation and technology, we strive to bring idyllic beach life closer to people's homes and transform city life all over the world. Our real estate and Public Access Lagoons™ projects provide attractive meeting places adapted to each market's demands. We are proud that our patented technology, unique in the world, can contribute to improving the quality of life of people in Central and Eastern Europe and bring sustainability to the entire region," said Francisco Matte, Crystal Lagoons® Regional Director.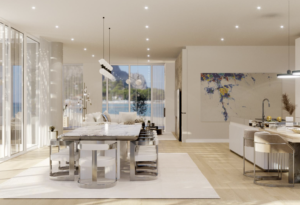 "With this extraordinary project we aim to redefine the notions of lifestyle and entertainment, bringing all these high-end amenities right into the city centre and transforming Bucharest into a holiday destination with turquoise waters and idyllic beaches. Moreover, Lagoon City implements the highest standard of sustainable development, as it is the first mixed green real estate project in Central Europe, self-sustainable, where all utilities are produced in-house," said Lucian Azoiței, Forty Management's CEO.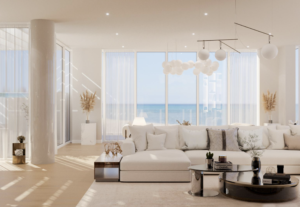 Sustainability
Forty Management places Sustainability at the core of its way of working, as an important value they build their business upon. Each of our developments is brought to life having in mind the future wellbeing of both individuals and community.
25% of the total global gas emissions producing significant climate changes are caused by construction operations; we aim at decreasing this percentage by preserving the natural habitat, using technical solutions and materials with low carbon impact and ensuring operational sustainability for the entire lifespan of our developments. To certify strong sustainability targets are constantly maintained, we work closely with reliable professionals, specializing in environmental analysis.
Carbon impact:
According to the latest analysis of Climate Action Tracker (CAT), our planet's atmospheric temperature is in danger to increase by +2,4˚C till the end of this century. This is an important topic to us, therefore we work with a sustainability team to develop a comprehensive assessment of both embodied and operational carbon. Part of this process, we measure emissions during the construction phase and the subsequent building in-use over several years. The results are analysed and compared for all our current developments.
Environmental approach:
The ecological impact of our projects is steadily assessed by our environmental engineering team to mitigate the impact of climate change. We request our design partners to be compliant with circular economy strategies, future-proof solutions that ensure efficient use of natural resources, thermal comfort, and indoor air quality. Committed to accelerate climate action, we developed an analytical framework focused on major themes of sustainability such as: wellbeing, community impact, land and ecology, energy and carbon, social equity, planning for change.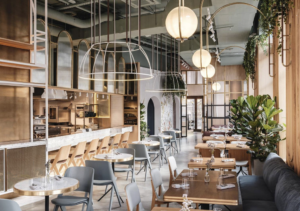 About Forty Management:
Forty Management is a Romanian developer of premium green mixed-use urban reconversion under Central District brand. Founded in 2015 by real estate entrepreneur Lucian Azoitei, Forty Management distinguishes on the market through the innovation and sustainability approaches of their concepts.
Sustainability and energy efficiency are at the forefront of all their developments. All the buildings developed under the Central District brand have superior certifications in this respect and Forty Management has received multiple awards numerous competitions and conferences in the field, both internationally and locally. The company is a member of the Romanian Green Building Council (RoGBC), an organisation that promotes environmental responsibility and energy efficiency. All Central District's residential developments are certified "Green Homes".
The scale up of the Lagoon City green urban reconversion concept will be implemented in Budapest, Warsaw and Prague through the company's Swiss-based subsidiary Forty Management AG.
More details about the Central District and Lagoon City projects can be found here: https://centraldistrict.ro/, https://lagooncity.ro/.