Oasia Hotel Downtown Offers a Living Prototype for Commercial High-Rise Development
The Oasia Hotel Downtown, designed by Singapore-based WOHA Architects, presents a radically different face to the world than its glassy neighbors in that city's central business district.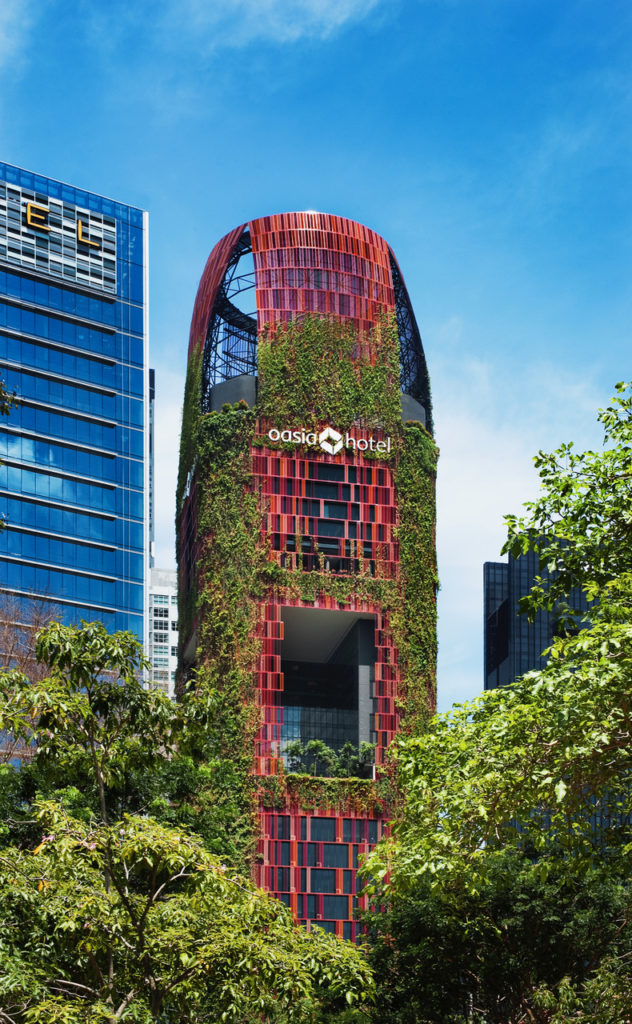 The structure incorporates 25 species of creeper plants into its permeable aluminum façade, giving the high-rise a character that is both unique and indicative of the architects' conception of design for the high-density, yet green city. WOHA's design for Oasia Hotel Downtown moves beyond vague notions of "sustainability" by fundamentally embracing living systems into a mixed-use program—one that grows, rather than exhausts a city's resources.

While buildings most often stand in opposition to nature, replacing green with grey, WOHA's work proposes that even our highest density built works can amplify living greenery within urban space. Oasia Hotel Downtown actively contributes a lush, living ecosystem to the city, from footprint to skyline, by producing over 1000% of the greenery found on the site prior to its construction. Over time, the tower's open terraces, sky gardens and blossoming façade will evolve into a lush and permeable envelope.
With the Oasia Hotel Downtown structure divided into both hotel and office uses there was a great need for a circulation plan that could support varied uses and allow for individualized open spaces. WOHA's plan of distributing necessary elevator and building service cores to the four corners of the building allows for generous open spaces on the 6th, 12th, 21st and 27th floors. As WOHA principal architects Richard Hassell and Wong Mun Summ are keen to point out, this distribution scheme allows the rare pleasure of standing in the center of an upper sky terrace and taking in a 360-degree view.
Singapore's newest tower breathes life into the upper reaches of the CBD skyline. This architectural prototype, with its naturally ventilated shared spaces and growing material palette, is a novel architectural experience, whether from afar or from within. Moreover, in keeping with the Singaporean firm's extensive experience and expansive repertoire, Oasia Hotel Downtown embodies WOHA's vision of high-rise, high-amenity architecture that responds to the complex conditions of megacities and the broader Global South.