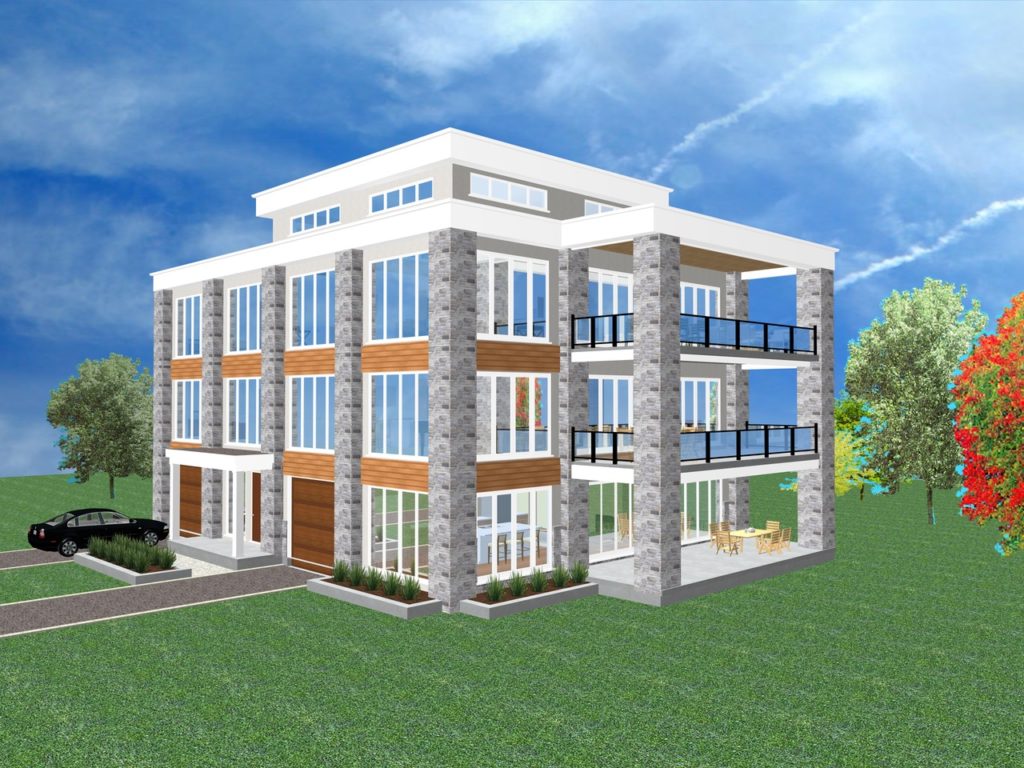 Inspired concept by custom home builder and founder of Stonemill Developments would see three-storey house utilized in a whole different way
Paul Ribau has a vision.
And the Principal Owner of Stonemill Developments Inc. has also done the necessary homework and is confident his idea will quickly translate into a very popular option for people looking to get the most out of their living situation.
In a nutshell, Ribau believes he's on to something big; something that does not even exist in the real estate market today and will generate a tremendous amount of interest. His plan would see an affordable luxury three-storey unit being used as both a home, and a source of income.
Call it the U-Pad.
The concept will be brought to life in the form of a modern design that draws attention to its application of windows and to its spacious layout. The U-Pad's design brings an uplifting environment.
"The U-Pad's appeal is especially evident for folks who are thinking of retirement," says Ribau, also Broker of Record, Stonemill Realty Inc. "Imagine a successful couple, whose children have recently moved on with their own lives; their large-scale home now has a rather empty presence."
Traditionally, perhaps, the go-to move would be to sell and downsize. Paul explains that "couples as such may be ready to downsize, but like many, they are not ready to give up their needs for storage and use of backyard.
"The U-Pad offers a dynamic alternative," Ribau says, "and a solution for combining an urban or downtown living experience with the convenience of a bungalow style living format, all the while providing a rental income from two separate spacious apartment style units in a three-storey setting, complete with elevator access."
Ribau, together with Stonemill's in-house Architect, Kristjan Fortune, has the details all worked out.
"A typical U-Pad would not have a basement. Instead, Ribau says, there would be a drive-in 1,200-square-foot garage on the main floor "to house all the cars or toys, of course" – plus a 1,600-square-foot two-bedroom apartment.
Each floor would have 10-foot ceilings. An elevator would be installed in the common area to provide access to the second and third floors.
The second and third floors each would be a whopping 2,800-square-feet of luxury apartments.
While completing the U-Pad space, owners would have the opportunity to work with Brenda Baranowski, Stonemill's in-house Lead Designer, in choosing their interior design finishes.
Ribau pointed to the many benefits, including:
The rental income opportunity
The U-Pad owner could choose to live on the main floor or one of the other levels depending on preference. Subject to district market values, the main floor could be rented out for $2,500 a month and the second and third floors could be rented out each for $3,500 a month.
Choice of location
As a custom builder, Ribau stresses: "With my design-build team of real estate agents, a U-Pad owner can choose where to set up their U-Pad living destination and whether they want to be in an urban setting, be close to a downtown annex, close to the waterfront, or place themselves in a quieter urban setting … the freedom of choice is theirs and a huge benefit."
Ribau says that Stonemill realizes there are countless factors to be considered when it comes to purchasing a new home "but at the end of the day, you want it to be your home and unique to the way you want to live."
And he says Stonemill provides "you with the freedom of expressing true individuality in your new home. All you need is the inspiration."
Since 1997, as a leader in the construction industry for custom design and build projects, Stonemill stands out with in-house specialized services. Whether it's finding that perfect lot, getting qualified for a new home purchase or construction financing, or simply starting the process of a custom design to blueprint to interior, Stonemill provides one-stop service, Ribau says.
Here's what to expect, according to Ribau, when you see the Stonemill brand:
Custom built homes
"At Stonemill Developments Inc. our inspiration comes from the clients.  Ranging from bungalows, lofted bungalows, modern two-storey scapes and traditional two-storey marvels, Stonemill will deliver the luxurious style of living.  With your custom wish list in hand, ensure that Stonemill can accommodate all with quality workmanship and finishes in mind."
Large-scale renovations
"For homeowners, a large renovation can be downright daunting. Stonemill has the experience and creative sensibility needed to produce any space you've been dreaming of, smoothly from start to finish."
Professional design
"With 18 years of custom creations, its innovative design focus on enhancing space, movement and flow through the house, with a winning combination of opulent finishes and unique touches, Stonemill ensures an output that all clients should deserve."
Full real estate services
"At Stonemill, we don't just design and build homes, but extend beyond by providing full-scale real estate expertise. Our team of agents will assist you with whatever your needs may be, from MLS listing packages to new home buying options and more."
Paul Ribau is the founder and President of Stonemill Developments Inc., Proud member of the Home Building & Renovation Warranty Program Tarion License #34286 and Broker of Stonemill Realty Inc., he comes with a cluster of credentials linked to both the building industry and real estate services. Besides the U-Pad initiative, Ribau says he would like to incorporate solar roof panels along with Tesla home battery power banks. "People would use battery power during peak hours and save tons on hydro costs."
Web / stonemill.ca